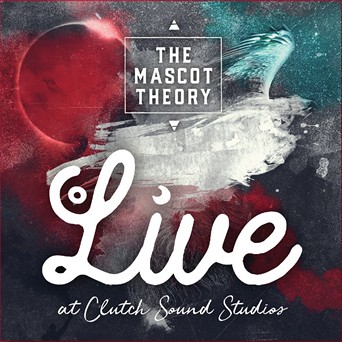 THE MASCOT THEORY – Live at Clutch Sound Studios CD & DVD
(2019 Stone After Stone)
Copies of Live at Clutch Sound Studios can be picked up at Flannel Fest, taking place in Madison at the High Noon Saloon on Friday, November 8th. This is an early start event running 6PM to 11:30PM.
__________________________________________________________________________
There have been surprisingly few proper DVD releases from Madison musicians and this may be a first for Local Sounds Magazine and Rick's Café. This is not the first time we've covered Erik Kjelland or the Mascot Theory, however, and you can catch up on the catalog of prolific output by clicking the links on the names. The sizable output is down chiefly to Kjelland who has written the lion's share of the material both solo and for the band.
If you are going to do a live album this is certainly one way to do it and the inclusion of the DVD makes this a nearly one-of-a-kind release. As the title indicates, the set was recorded in front of an audience in Clutch Sound Studios so in terms of the sound there is a lot of control. In terms of the excitement of a live show the audience participation is missing from the equation. That doesn't hold the band back from delivery a highly professional, extremely tight and well-delivered performance however. Above all, the Mascot Theory has demonstrated over and over that they are a class act.
The band is enhanced with the addition of two high-class artists in their own right, Gabe Burdulis on guitar and Shawndell Marks on keyboards; the sound becoming even bolder. You can hear Burdulis on "First Summer Breeze," where he adds a funky guitar line in the CD's right channel as well as more tasteful rhythm and lead on "Part-Time Valentine." Marks's organ sound comes through loud and clear on that one as well as on "The Monster." These two also pitch in on backup vocals and if there is one area the Mascot Theory excel in above all else, it's the vocals. There are spots where all six performers are singing. Kjelland's lead vocals are spot-on as are the harmonies.
Corey Hart plays some tasteful lead guitar with Burdulis chipping in. They do a nice little twin lead on "Get Up." "Part Time Valentine" sees the band stretching out with some soloing in the middle section. Otherwise the songs stick closely to the album versions.
The DVD presents the songs in chapters. There is no dialogue between the band and what audience was in the studio; that would have been a nice touch, to add some backstory. Nevertheless, the video is very well done with several camera angles, nice lighting and an obviously competent crew. The Mascot Theory have made several music videos but this DVD should please their fans in that it captures them in a performance setting.