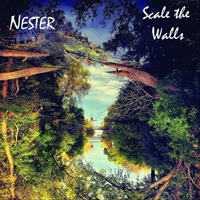 NESTER – Scale the Walls
(2019 Self-Release)
The Release event for Scale the Walls is Saturday, November 9th at the Venue on Winnebago St.
Heavy Looks will open and DJ Millbot will close. Physical copies will be available at this event.
Digital copies can be downloaded at both iTunes and CDBaby. It will also be available in both digital and physical forms at Bandcamp.
______________________________________________________________________
Nester was formed around 2008 and in eleven years have released only three recordings: 2014's Gata Galactaca and 2016's Rainbow Dark (both of these were reviewed by Local Sounds and can be found here). Scale the Walls is the newest entry in their catalog and at only five songs is to be savored. The group obviously spends copious amounts of effort in crafting their songs and arrangements. Even the lyrics show signs of consternation and revision, honing the sentiments down to a fine, poetic art.
Nester's music isn't easy to label and that's a good thing. A bit pop and indie rock but with a breadth of subtle sophistications. There has also been a trajectory over the years with each release showing gains in class and confidence. If there were comparisons to make perhaps Prefab Sprout fronted by Ann Peacock might come close.
Two songs really stand out. The title track is the most complex thing the band has done while retaining a pop buoyancy. It starts out with menacing organ tones before the verse in 6/8 time and a melodic vocal from Meghan Hamilton. Riki Sjachrani brings in a single-line guitar figure before the band breaks into 4/4 time in the chorus. Here is a brilliant display of syncopation, all instruments playing divergent patterns. It's subtle but most impressive. While Hamilton sings, "I'm just a drop in the water / so clear," the accompaniment is anything but. The kick drum brings things back to earth, building up to the chorus, still in 4/4. The lyrics here, and throughout the recording, are cryptically mesmerizing: "So you came at me with your face all smiles / You laughed at my style now I laugh at your coffin / You've got no staff and you've got no sword / 'Cause we are not wizards, you have no magic." Then they're seamlessly back to 6/8. It's the type of music that teases musical minds but can be easily absorbed by anyone, whatever the time signature and that's no easy feat.
"7/4 Beltline" is another piece that toys with time signatures, this one – as the title indicates romps between 7/4 and 4/4. A massive bass-driven beat courtesy of Ginny Kincaid and bassist Matt Voll; Jeff Carlson's shifty synths snaking around the beat while layers of guitars and keys build up a totally cool sound palette.
It takes deft drumming to pull this stuff off and the addition of Kincaid seems to have opened up further avenues for the group to explore. Check out the snappy drumming on the opener "Genesis" and the effective hi-hat vamping in the bridge section. A Phox-like intro giving way to one of the most propulsive tracks the band has recorded. The chorus is catchy as hell, the arrangement tight.
A majestic, echo-laden guitar statement features in "Cards Like Mine," which builds to a rousing crescendo. Even if it's the weakest track of this bunch it's still really interesting, the band challenging themselves with each picture they paint.
"Fold" uses more stylistic syncopation and another driving chorus. It feels like a call to arms and a plea for the current structure to collapse: "I sit around and watch our cities die / Fold / You read your book and then you blind your eyes / Fold / And I've had to take it all in hand 'cause I'm really trying / Fold /This kind of thing has never stood the test of time / Fold."
Nester represent the artier side of local music and they do it with aplomb. References to the Beltline aside, they make music that is their own and that figures into that "Madison" sound, one that is usually associated with heavier motifs but really is about a certain creative freedom. One that leaves plenty of room for experimentation and outright beauty in its construct.