THE SKINTONES
Coming to Collect
(2023 Crustacean)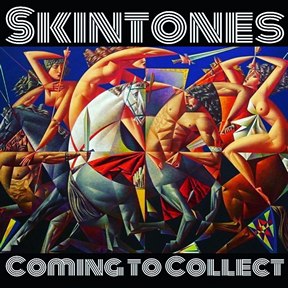 Bar your windows, hide your daughters and take notice, political oppressors, the Skintones are back and they're coming to collect. Stream it here.
Photo/Video credits: Morgan Rae
______________________________________________________________________________________
It's March 31st at the High Noon Saloon and the Skintones are celebrating the release of their first album in fifteen years, Coming to Collect. An almost packed house has watched two fine performances from the Wristwatch and the Pimps.
Wristwatch, led by Bobby Hussy is keeping punk alive; their performance was highly energetic with Hussy getting more wound up as the set progressed, eventually flailing (literally) all over the stage floor. They played songs from both the eponymous debut (recorded in 2021) and their upcoming followup II, which will be released in July. You can preorder here.
From Rockford, the Pimps brought out a tremendous following. Billed as "Farewell to Madison, the group has declared that this will indeed, not be the last time though they will take the summer off. If you missed this one, don't miss the next. The group positively roars and has an incredibly tight rhythm section while being highly entertaining. They refuse to take themselves too seriously as is evidenced by the title of their upcoming release, Shit Storm at the Fuck Factory. Here's a little taste:
The Skintones hit the stage last and a good majority of the crowd stuck with them. Man, they sounded great and have not lost a step in ferocity or attitude. They might even be tighter than they were in the past as they've purportedly cleaned up their act, looking and playing fit. The massive sound they're able to produce as a trio is admirable with enviable distortion tones, powerful bass from Gavin Lefebvre and the driving propulsion of Anthony Leskinen's drums. The new songs were fresh and blended in with faves like "Baba Ganoush" and "H-Bomb." Especially effective were "Played in America" and the album's title track.
In the video below you can clearly see Bobby Hussy toss a water bottle at the stage, an act for which he was removed by the bouncers while arguing, "Don't you know who I am?" Classic.
If you asked guitarist and lyricist Pete Ress he would say the band has never officially split and that this is not a reformation in any sense. They have made sporadic appearances here and there. The fact that it's been fifteen years between recordings probably reflects more on life stuff than a hiatus.
The new album was recorded and mixed at Lefebvre's Greyhound Sounds with additional work taking place at DNA with Mark Whitcomb. It's even on the Crustacean Records label which brings things full circle. The sound is pulverizing with a few twists thrown in.
"Hooray for California" may be the most upbeat track the Skintones have done, even venturing a few "happy" major 3rds. That is, until you get to the last stanza, "Mountains will quake / Buildings will shake / End of our state / the fault is smiling." Classic Skintones dark humor. Love it and the bass solo of sorts in the middle section.
One gets the feeling that they'd been listening to the Police a bit while making this record. Opening track "Death Waltz," with it's chorus "O mortis domine" or "Oh Lord of Death" its not remotely like the Police. But when translating the lyrics, which are in French, I came to a direct link to the Police's "Hungry for You (J'Aurais Toujours Faim De Toi)" from the "Ghost in the Machine" album The song roars out of the gates with a killer riff straight out of a torturous hell. Later, "We Like What You Got" actually does resemble the Police's "Synchronicity" a bit. In the fadeout, Ress quotes "Message in Bottle."
The band approaches AC/DC in the vocals on "Icarus Descending." It's Middle Eastern-like vibe gives way to the repetitive "Life's about money and sex and power!" screamed at Bon Scott pitch.
"Played in America," clearly a critique of the state of the nation with its anthemic refrain, "More sex / More drugs / More guns / More thugs / The kind they make in America… We're getting played in America." Pair that with the title track and you get a solid one-two politically-charged punch and in the latter, a rallying cry for revolution. "We're coming to collect / Don't be upset / …You should have seen it coming." "Battle Us" makes it a trifecta "You mean to shatter us / To scatter us / you won't succeed!… / You will fall!"
These are just a few highlights in an album that crushes from start to finish (See "Sugar & Salt" for good measure). What a welcome and powerful return for one of the city's most memorable hard rock trios. Play at maximum volume.