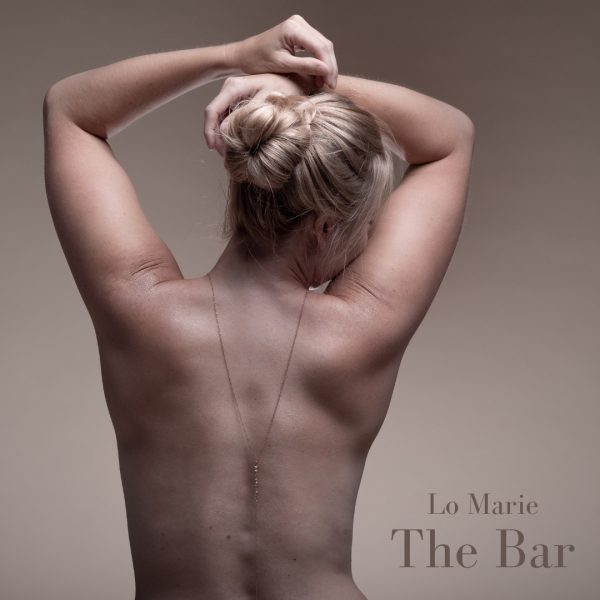 LO MARIE – The Bar
2022 (Self-Release)
Lo Marie will celebrate the release of The Bar at the High Noon on May 20th. Also performing are the Civil Engineers.
Read other Lo Marie reviews here and here.
______________________________________________________________
Time has become a bit of a vacuum; the events of the last few years creating a black hole of sorts. It's been three years since the release of Lo Marie's last album, Le Reve, which saw her soar in popularity and bring home Artist of the Year honors. Though she's stayed in the public eye, particularly with her work with the Furious Bongos, the disruption that was wrought upon artists individually and collectively cannot be overstated. 2021 was an active year for Lo Marie (real name Lauren Homberg), however, as the country and the music scene floundered in its pandemic recovery. She released five singles and a slick lyric video for "Gatekeeper."from this seven-track release.
The necessity dictated by the pandemic might not seem, on the surface, to affect Lo Marie's methodology. Her long-running collaboration with Conrad St. Clair remains intact in spite of his relocation to the East Coast several years ago. He again contributes bass to all but one track and co-writes another as well as co-producing, mixing and editing. Several others who collaborated on Le Reve return as well, many of whom are located on the East Coast or in Nashville. The move towards file sharing as a way of recording that accelerated over the past few years put Lo Marie ahead of the curve in that regard. But, as we all know, these experiences we've all shared are far more deep-reaching.
Lo Marie's jazz-inspired style rings familiar on several of these songs but there are some departures from that signature sound. Opener 'Fear is a Vampire" employs a western guitar motif complete with galloping percussion before the chorus kicks in with rocking fashion. Twin lead guitars in the break add Queen-like flair. Lyrically "Fear is a Vampire" establishes a theme throughout the recording; one of relationships that aren't needed (or wanted) anymore. "When push comes to shove/ I've got all the love I need / to stand and be / the best I can be / can you say the same?" And then, a somewhat obscure reference to "sweet surrender / safe and familiar / don't want to fight the sound of David's tune." The David in question (in this writer's interpretation) is David Gates of Bread fame, whose song "Sweet Surrender" celebrates a loss in the strength of self-reliance. This theme gets repeated elsewhere in songs like the Steely-Dan-sih "Jealousy Looks Good on You" and "Independence Day," which comes back to the cabaret jazz style: "I got a brand new telephone / It's nice to know you'll leave me alone," and "You're out of my life / and I'm through with strife / happy Independence Day."
None of this inner-strength swagger can prepare for "The Gap," however, with Prince-like funk, a scat vocal in the middle section and a (literally) "fuck you" chorus. The antagonist here seems to be attempting to use professional power in expectation of sexual submission. Uh-uh – not having it! There's a similar antagonist in "Gatekeeper," a familiar complaint about industry people using power games in deciding who gets through. This one is in a pop format with a solid chorus buoyed by some sweaty organ playing from Jason Webb. Chris Huntington's simple but effective guitar line adds tension before exploding into a ferocious, rock guitar solo. Great tune.
The album's closer, "Cloud Factory," co-written with St. Clair seemingly departs from all of this while demonstrating a writing collaboration that could be quite intriguing if carried on as a separate project. A cross between Joni Mitchell's artistry and Allan Holdsworth's airy and chiming guitar tones, the song uses the deceptive whimsy of clouds in the sky that are ultimately revealed to be sourced from a toxic factory as a metaphor for a world that's come apart at the seams: "Then the truth unfolds / pure and true innocence softly shattered / all I knew a tapestry torn and tattered." It could also be the neat little bow that ties together the album's premise that people are, more often than not, not what they seem. St Clair's bubbling fretless bass is central to the song's movement.
This is another fine outing from Lo Marie, whose ability to harness exceptional talent to convey her musings is most impressive. There is little doubt that there is far more to come and that, as of now, she remains one of Madison's musical gems.